Product Overview
Majestouch 2 Matte White model for every scene.

PC board got all renewed! It delivers you a better duration, quality and typing feel!

Not only a typing feel…. but also a software got all renewed!

Compatibility with USB and PS/2
Point 1 : 2way keyboard : USB wired connection and Bluetooth wireless connection.

---
Point 2 : It can be used approximately for 6 months with batteries. Power saving mode is equipped.
Battery life : Approximately 6 months when used for 5 hours per day.
(Battery life will differ based on usage conditions and environmental factors)
Under Bluetooth connection, it will automatically enter power saving mode to save electrical consumption if there is no activity for more than 30 minutes.
---
Point 3 : Maximum of four personal computers or devices may be connected and toggled randomly.

Majestouch Convertible 2 can be used not only for personal computers but your smartphone or tablet.
You can toggle instantly by pressing any of the 1~4 [Bluetooth device registration / toggle keys] keys.
---
Point 4 : You can change the Function of the key for your preference.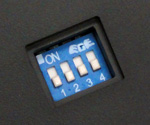 | | |
| --- | --- |
| SW1 | Windows key and Applications (App) key, are locked and cannot be used. |
| SW2 | Changes CapsLock key and left Ctrl key. |
| SW3 | Changes Esc key and [` ~] keys |
| SW4 | Changes Fn key *Changes two keys simultaneously |
You may chage or stop the use of the key codes by using the DIP switch located at the base of the keyboard.
---
Key arrangement

** Click to enlarge
---